It's finally time for our next
Look For Less Design Challenge
! Several other bloggers and I have taken the challenge is to find a designer inspired piece and recreate it for less money.
Check out my
DIY Panel Headboard
from last round, or our
West Elm Inspired Floor Mirror
from the first round.
I fell in love with this Threshold Hook Rail from Target, but wasn't loving the stain and style of wood.
While this isn't exactly a "designer" piece, I knew I could DIY this in a dark Ebony stain that would match our new Master Bathroom's color palette. So a quick 30 minutes later, I have my very own DIY'ed Towel Rail.
Since we're deep into our Master Suite Remodel, we've got plenty of scrap wood laying around. I had Justin cut a piece of pine down to 24"x4"and sanded it nice and smooth for me.
With the prepped piece of pine, I prepped the wood with Wood Conditioner. I've seen on other blogs that wood conditioner makes all the difference in the appearance of the stain, both in even coverage and the deepness of the color. I wanted this to be as dark as it could be without hiding the beautiful woodgrain, so Wood Conditioner was a no brainer.
After allowing the conditioner to dry, I put on two coats of
Ebony stain
(which we already had around the house), wiping off the excess after 5-10 minutes of dry time.
With the wood fully stained and dry, apply 2-3 coats of Poly to protect the wood & stain against the elements. I applied 3 coats, allowing dry time between each coat.
Note: Many stains come in a Stain + Poly in-one option, however my ebony was not one of those options. If possible, I'd recommend using the two-in-one for time savings.
The last step to prep the piece of wood was to lightly sand the piece smooth as the Poly can often leave a texture. I used a fine sanding sponge to do this.
Then it came time for my perfectionist husband to step in. I definitely could have done this part myself, but I'm the complete opposite of a perfectionist and have no time for details. So to make sure the towel hooks went on straight, Justin happily took the lead.
First step was to map out where my four towel hooks would go. Justin put down a piece of blue painters tape so he could see the lines he marked. We centered the towel hooks every 4", and centered them between the top & bottom of the piece of wood.
Here's a quick sneak peek to show you how we measured out the hooks.
Next up was pre-drilling the holes. using a self-centering bit on your drill. Justin pre-drilled the holes to ensure that the wood doesn't splinter around the hole. We used the hooks during this pre-drilling phase
(see below)
to ensure our spacing was accurate for the hole on each side of the hook.
With the screw holes pre-drilled and ready to go, we removed the blue painters tape and hung it on the wall using
toggle bolts
and a screw on each side. By doing this, the towel hooks (which will be attached next) will hide these screw holes.
And lastly it's time to install the towel hooks. These are as easy as screwing them into the pre-drilled holes that you prepped earlier. Double checking that they're all straight. And gazing at them adoringly.
And there you have it.
We purchased these towel hooks from our local Target store for $4.99 each. They're not available online, so I'm not able to link through - but they're in the organization area of the store.
This entire project cost us $20 and about an hour excluding dry time. So while it's not a ton less than the original Threshold version for $29.99, it is in the exact color I was hoping and the dimensions that fit our new bathroom. I love it!
Looking for more DIY inspiration? Check out these five other amazing Look for Less projects from the rest of the team!
Note: Just click on the photos below to be directed to these other Look for Less projects.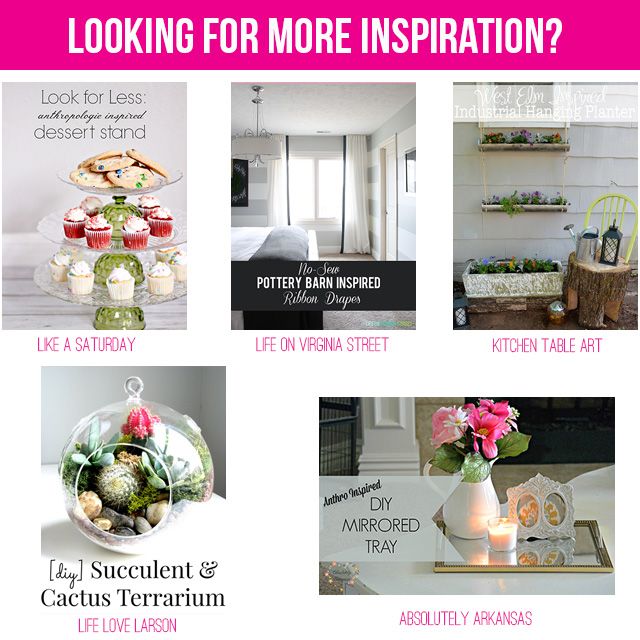 Linking up to: Make it Pretty Monday, Motivate Me Monday, Monday Funday, That DIY Party, Tuesdays at Our Home, Remodelaholic, Time to Sparkle, Work It Wednesday, Simply Create Thursdays, Sunday Best, Inspire Me Please Creativity Unleashed, The Humble Brag, Friday Flash Blog, Lovely Ladies Linky, Wow Us Wednesday, Making Monday, Before and Afters, Wow Me Wednesday, Inspiration Gallery, Feathered Nest Friday, The Party Bunch, Link it or Lump it, Frugal Crafty Home Party, It's a Party, Worthwhile Wednesday's, The Makers, Do Tell Tuesdays, Thursday Style,