Have you seen
our new master bedroom
yet??
I'm completely joking.
I've shared this master bedroom reveal more in the last month than y'all can probably handle...
but
I'm not done yet! Today I'm showing the last piece of work that we've done in the master bedroom to date.
But don't you worry. I have a couple more master bedroom projects in my back pocket.
And today, as part of the Look for Less Design Challenge series with six other wonderful bloggers, I'm sharing this beautiful Focal Wall Headboard.
Yup, that's right. The team's back again with this quarter's Look for Less Design Challenge.
While searching for bedroom inspiration, I found this
beautiful bedroom
on Houzz and knew I needed to make a focal wall headboard just like this one.
It's so bold in a classic and clean way, which I love. While I don't know the exact cost of this headboard because the photographer doesn't know the source, I was able to find a
Panel Tufted Headboard
from West Elm ($449) and this
Modloft Prince Platform Bed
from Wayfair ($1,450) that look really similar to the look I was going for. So from a cost comparison perspective, I feel like this focal wall, panel tufted headboard from my Houzz inspiration was probably around $600-750.
And boy oh boy, can we DIY that for a whole lot less!
How to Build a Focal Wall Headboard
First step for us was sketching out a general plan for our headboard. We like to be flexible during furniture construction with dimensions and the overall building plan. Since construction is what that Justin does for a living, he often times thinks up new, innovative ways to complete a project that isn't even
close
to what we had originally planned, but almost always better than our original plan. This project was no different.
Based on the dimensions of our bedroom, we estimated the width of our focal wall (I wanted our headboard to be nearly the entire length of the wall). I also knew I wanted to hang my
DIY Artwork
above the bed, so we determined our headboard height based on saving space for those framed prints.
Here's what we ended up with:
Nine, seperately upholstered planks; three 76" x 14", and six 24" x 14"
Step 1:
Cut the individual planks that make up the focal wall headboard. We decided to build the headboard planks with MDF to ensure that they wouldn't warp over time.
Step 2:
Upholster the planks with batten. I've never upholstered anything before, so kind of I learned as I went but I think it turned out really well!
I started with Soft & Crafty batten which I purchased pre-packaged from Joann Fabrics for about $30, which I wrapped around the front of each plank and secured in place with our soffit stapler.
Tip:
If you have a soffit stapler, I'd highly recommend using that instead of a hand stapler. This way was
much
easier on my muscles.
Step 3:
Then it was time to prep the fabric. I measured, cut and ironed my pretty grey and gold fabric I also found at Joann Fabrics for $7.50/yard (which I purchased with my 30% off coupon). I ended up spending only $36 on fabric.
I purchased this fabric because it was a perfect shade of grey, a little thicker, but not the $44/yard furniture fabric that I couldn't afford in my headboard budget. The awesome gold of this fabric won't show in the headboard
but
you may just be seeing it in a future project.
Wink wink.
The fabric was extra wrinkly from being folded up on the bolt in the store, so I took my time ironing all the fabric and making sure it was pristine. Then clamped it onto the planks (to hold it in place) so I could start stapling it on to the MDF.
And here's what it looked like on the back once I had I had the batten & the fabric stapled down.
And here's how beautiful the plank looked like from the front.
Step 4:
After the upholstery was done, it was time to figure out how to best affix these planks to the wall. Justin, being the genius that he is
(yes, I'm sucking up here)
, recommended finding some sort of hooks almost like picture frame hangers for each individual plank. And after a trip to Home Depot, we found exactly what he was envisioning with the
Hangman 60lb. French Cleat Picture Hanger with mounting screws
.
This "French Cleat" system works out perfectly. You affix half of the system to the back of your headboard plank (or piece of artwork if you're using it for it's real purpose) and the other half of the system gets affixed to the wall. Then they hook on each other and literally
do not budge
. So smart!
So first step was putting the piece on the back of each piece of headboard plank. For the smaller pieces, we centered the hanger exactly within the rectangle to create equal pressure when hung. For the longer pieces, we put one hanger on each side.
Tip:
Make sure that the hangers are level on the wall
and
piece of headboard so it all hangs straight.
Luckily, we had our two assistants there to help us with the hanging process.
After making sure that each piece was level and each piece was tight to the next, we were left with this beautiful hanging headboard.
And here's the final product with the remainder of our room set up!
So there you have it. $115 and a few hours later, we have our beautiful panel tufted headboard as our main focal point in the mater bedroom. I couldn't have asked for it to look any better.
Looking for more DIY inspiration? Check out these six other amazing Look for Less projects from the rest of the team - or check out our last
Look for Less Design Challenge
!
Note: Just click on the photos below to be directed to these other Look for Less projects!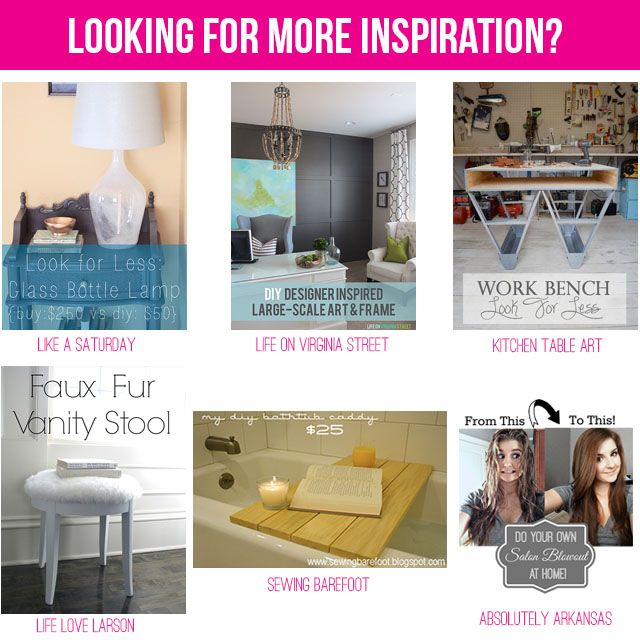 Linking up to: Give Me The Goods Monday, Make it Pretty Monday, Motivate Me Monday, Monday Funday, That DIY Party, Mod Mix Monday, Tuesdays at Our Home, Remodelaholic, Time to Sparkle, Work It Wednesday, Simply Create Thursdays, Sunday Best, Inspire Me Please Creativity Unleashed, The Humble Brag, Friday Flash Blog, Lovely Ladies Linky, Wow Us Wednesday, Making Monday, Before and Afters, Pincentive Blog Hop, Wow Me Wednesday, Inspiration Gallery, Feathered Nest Friday, The Party Bunch, Link it or Lump it, Frugal Crafty Home Party, It's a Party, Worthwhile Wednesday's, The Makers,